E-mail Iona Miller
iona@ionamiller.org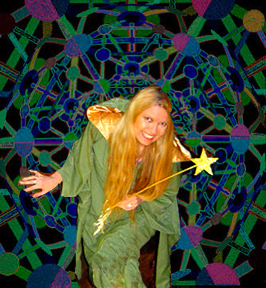 Iona Miller
FREE RADICAL: Iona Miller, consultant and transdisciplinarian, is a nonfiction writer for the academic and popular press, hypnotherapist (ACHE) and multimedia artist. Her work is an omnisensory fusion of sacred activism, intelligence reform, esoterics, science-art, chaos theory, pop physics, and emergent paradigm shift melding experiential psychotherapy, future science, biophysics, resonant space, philosophy, cosmology, healing, creativity, articulated and tacit knowledge, qabalah, magick, paranormal, media ecology, mind control, paramedia, metaphysics, and cultural filters.

CHANGE AGENT: Rather than having an interest in specific doctrines, she is interested in the transformations, the EFFECTS of doctrines from religion, science, psychology, politics and the arts. Our beliefs are the moldable raw material of the psyche, manipulated by governments, media and culture. How do we become what we are and how is that process changing in the near future?

META HARI: Performance artist and spywhisperer, Ms. Miller is published by Phanes Press, Destiny Books (Inner Traditions), Autonomedia, Nexus Magazine, Dream Network, PM&E, Journal of Nonlocality and Remote Mental Interactions (JNLRMI), Chaosophy Journal, OAK, DNA Monthly, Pop Occulture, Schiffer, Bolero, Science-Art Research Centre, and more. She is a Gaia.com Ambassador and serves on the Board of Medigrace.org nonprofit organization. Recent print articles include Alchemy Journal Vol. 10 No.1, Mar 09 (Australia), Paranoia zine #44, #46, #49, #50 (USA), HunterGatheress Journal, Vol. I and Vol. II, JNLRMI (Russia), Der Golem (Germany), Antibiothis I and III (Portugal), The Art of Fetish (Miami), and Journal of Interdisciplinary Crossroads (India). Her artwork has shown in Miami, Phoenix, New York, in magazines and more. Appearances include "21st Century Radio," "Untamed Dimensions," "Reality Portal," " Digital Long Island," "The Ascending Way," etc.
Online Contact Info
iona@ionamiller.org
Website
Iona's 2009 Updates
This site changes regularly, so be sure to return often for new insights and inspiration.

Find more of Iona's writings, art, and transgressions at:

Iona "Spooky" Miller
Webpresence 2006: IONATOPIA
Google IONATOPIA + Iona Miller' for the whole list
iona@ionamiller.org or iona_m@yahoo.com
2006 UPDATES: http://ionatopia.50megs.com
Io Art Updates: http://ionamiller.50megs.com
General Updates: http://ionamillerupdates.50megs.com
___________________
WHAT'S NEW

1/1/06
NEW WEBSITE: IONATOPIA
Comprehensive intro and updates for all writing and art.
http://ionatopia.50megs.com

1/1/06
NEW WEBSITE: IONATOPIA
Comprehensive intro and updates for all writing and art.
Art Manifesto 2006
http://ionatopia.50megs.com


5/06
NEW ANIMATION: Blue Elf Magick, animated by Bob Judd of Subcutaneous.
http://subcutaneous.org/


4/06

NEW SITE: April, 2006 HARMONIC CONTINUUM EMBODIMENT PRACTICES and PARTICIPATORY WISDOM: Somatic-Spiritual Tech for the Reality Shift. A group of spirit-based somatic educators, action-research scientists, scholars and performing artists have formed a unique alliance with an evolutionary agent, Steve Bhaerman, aka Swami Beyondananda, political scientist and comedian, Lorin Kiely, Physicist Mark Comings, Stas Rutkowski, Julie Henderson, etc. We came together Easter weekend, April 14-16, 2006 to originate a new synthesis which will be the foundation for a fully dynamic participatory educational process for self-regulation. http://harmoniccontinuum.50megs.com

COMMUNITY ACTION April 2006
Grants Pass Metaphysical Library and Salon
The community-based GPML is a regional membership lending library, music and art space, study center and event center in Grants Pass, Southern Oregon. Let me know if you want to speak in our venue. http://gpml.50megs.com

NEW JNLRMI April 2006:
Our April 2006 issue of the Journal of Nonlocality and Remote Mental Interactions, available online http://www.emergentmind.org/jnlrmiiv1.htm

4/06
NEW WEBSITE: KNOW BROW ART
http://knowbrowart.50megs.com
Neither High-brow nor Low-Brow, the Electronic Arts are "KNOW-Brow Art" born of our fusion with technology. In the middle of the forehead, neither high nor low is the Third Eye of inner or visionary sight. Electronic arts, by their very nature, require a great deal of technical knowledge to interface with computer-assisted media. Know Brow art respects and draws from both classical art and that of the underground or street. Digital Media include still frames, Flash, and desktop digital movies, often incorporated with other media, installation, and performance.

3/06
NEW WEBSITE: MIND CONTROL
http://mindcontrol.50megs.com
Do It Yourself Mind Control. Self-care and Self-regulation is the antidote to corporate and sociopolitical mind control. Do it yourself, or somebody else will. Rototill your belief system; don't be a sheeple, people. Paramedia Ecology; Paradigm Shift; Freestyling, Persuasion, Coercion, Hypnosis, etc.

Coming, Easter 06 Harmonic Continuum private event/film with
Swami Beyondananda, including usual suspects. Some kind of transdisciplinary SAVE THE HUMANS movie, along the lines of What the Bleep meets Holy Smoke. Lorin Kiely, Physicist Mark Comings, Teja Bell, Iona Miller, Paul Levy, Julie Hendeson, Jim Berenholtz, Stas Rotkowski. Media by Michael O'Roarke http://www.dimension7.com/company.htm


Coming: MAY 2006; Memorial Day Weekend
ASSACON, May '06 http://www.assacon.com
San Francisco, California; Memorial Day Weekend
Workshop Title: Altered States of Sex, Love, Intelligence
Co-facilitators:
Sobey Wing, Vancouver B.C. and Iona Miller, So. Oregon
The mixing of the psychedelic experience and the world of relationships can be a road to enlightenment or suffering. Love itself being considered a drug gives rise to possibilities of harm reduction approaches to the way we share energies. Neo-tribalist, Sobey Wing and Cybersybil, Iona Miller provide an inter-generational bridge in a culture lab investigating the potentialities of dyad voyages from preparation to post-integration of the entheogenic experience. Use of aphrodisiacs will also be touched upon. Looking at questions that hinder our intimacies and create armoring of the heart, we will seek ways to empower the resource states in ourselves. Applications draw on tools that including free writing, discussions and breakout groups, movement and self hypnosis as we explore ways to re-pattern mind states to anchor more sacredness in our love and sexuality. Also see more at http://digitaluniverse.50megs.com/custom2.html

2/7/06
NEW WEBSITE: DIGITAL UNIVERSE
http://digitaluniverse.50megs.com
VIRTUAL QABALAH art/music DVD with Merlyn Morgan;
Albert Hoffman 100th birthday party, Basel; Io digital media art
Media Ecology; Video Guru Nam June Paik's Wake, NYC, more.

2/9/06
I've been asked to join the Board of Directors of MediGrace nonprofit, which continues my interest of institutionalizing meditation in complementary medicine, and development of human survival technologies. I've been working on this for some time with Dr. Marshall F. Gilula in Miami (heartstringsbook.50megs.com), but this local organization does both professional and public outreach, emphasizing self-care, which I find appealing. The Calm Birth book was released last season; Calm Healing has been written and includes some of my nonobjective artwork. It is wrapping up the publishing process now. medigrace.org/ calmbirth.org/


10/2005

NEW WEBSITE: KABBALAH LUMINATA
As a digital artist I paint with LIGHT; as a Qabalist I practice in the
Temple of Living Light. Recently discontent with static and
Flash imagery alone, I have begun venturing into the world
of filmmaking. Comes see some of the art frames I have prepared
for animation at my new Kabbalah Luminata Portal at
http://kabbalahluminata.50megs.com

9/2005

PUBLISHING Iona's painting "The Diamond Body",
plus commentary in Science-Art art book;
see http://www.science-art.com.au/ and http://science-art-usa.50megs.com
THE TRUE MEANING OF THE DAVINCI CODE
By Robert Pope; ISBN 0-9577784-7-3 (155 pgs)
Science-Art Research Centre of Australia, Inc., 2005
By adhering to a mechanistic worldview, Western civilization is on a path to extinction, says Science-Art philosopher Robert Pope. The ancient knowledge passed on by the Greeks upheld a survival science, a "Savior science" that was misinterpreted by Leonardo Ad Vinci but was privately understood by Isaac Newton. In response to Dan Brown's The da Vinci Code, Pope hopes to set the record straight by returning to the atomistic philosophy of the ancient Greek scholars such as Plato and Philo. Plato's worldview is much more akin to a holographic reality, Pope argues. The "true meaning of the code", he suggests, relates to atomic movement creating evolutionary wisdom, and he points out some classic examples of Renaissance art that communicate this truth.

ART WRITING Jungian Psychology Cut-Up ESSAY on artist
GENESIS P-ORRIDGE: PandroGENy: A Love Story of Gender Reunion
~The Yab-Yummy Way of Imagination.
http://ionamiller.chaosmagic.com/catalog.html

"The artist is not a person endowed with free will who seeks his own ends, but one who allows art to realize its purposes through him. As a human being he may have moods and a will and personal aims, but as an artist he is 'man' in a higher sense - he is 'collective man,' a vehicle and molder of the unconscious psychic life of mankind." (Carl Jung, Psychology and Literature, 1930)

PORTRAIT Animated portrait of Iona by international electronic artist in Paris, Philip Wood:
http://www.sign69.com/medialounge/space543.html


Coming Attractions:
* Travelling road show with Iona on Quantum Biofeedback, Lorin Kiely on Top Down Yoga, Mark Comings on plenum physics, and cosmic comic Swami Beyondananda, opening at Alex Grey's CoSM in NYC.

* VIDEO HYPNOSIS DVD from Temple of Living Light Productions, with brain drivers for Alpha and Theta. Next: "MOODIES" based on consciousness journeys. Soon: "VIRTUAL KABBALAH", digital pathworking.

* BOOK HEARTSTRINGS: NONLOCAL HEALING is both a co-authored book and series of articles in the works with a Miami Neuropsychiatrist and distance healer, Marshall F. Gilula, M.D. Groundbreaking Experiments with quantum biofeedback software and hardware.
http://heartstringsbook.50megs.com
http://cyberdoctv.com

* BOOK Also coming, BEYOND MK ULTRA, co-authored with Charles Stone, Chief Deputy to Dr. Carl Schleicher in Mankind Research Foundation. After his military career in psiops, Schleicher opened Mankind Research Unlimited, a parapsychology and alt.healing SRI or IONS type thinktank. In the 1980s, he was exposed as the creator of the deployable human cyborg -- a Manchurian Candidate, and is the likely model of the X-Files "Cigarette Man". My ex-husband physicist Richard Miller worked as his NW Regional Director of MRU after he published "Holographic Concept of Reality" (with Stanley Krippner) in 1973 -- long before anyone else. This is the inside track. See "Getting Blood from a Stone"
http://tigernews2005.50megs.com/photo2.html
http://tigernews2005.50megs.com/photo3.html


_________________________________________
NEW 7/05
MANDALAPALOOZA SLIDE SHOW Links & Wall Text
Be sure to watch these slide shows as the thumbnails do not do them justice!

ESSAY DIGITAL CYMATICS Wall Text:
http://ionamiller.50megs.com/catalog.html

Mandala ANIMAtions ~
Custom animations suitable for large screens for Music, Fashion, Meditation, and Lecture Events
http://onenationundergods.com/mandala.html


___________________________________________

NEW 6/2005: BIOPHYSICS Portal
http://biophysics.50megs.com

New 5/2005: Nexus Conference May '05 Amsterdam pix
http://pg.photos.yahoo.com/ph/iona_m/album?.dir=/44e1&.src=ph&.tok=phEA1BDBBZRE2Gsk

___________________________________________________
ARCHIVES & IONATOPIA PORTALS 2005:

THE IONASPHERE: COLLECTED WORKS 2000
http://ionamiller.org

2005 ART UPDATES
http://ionamiller.50megs.com

2005 GENERAL IO UPDATES PORTAL
http://ionamiller.chaosmagic.com

FANSITES 2005
TRIBE Public URL: http://ionaisthebomb.tribe.net
BLOG: http://people.tribe.net/ionamiller
BLOG: http://www.myspace.com/ionamiller

SUBCUTANEOUS UPDATE PAGE 2005
http://www.subcutaneous.org/Iona.html


SYNERGETIC QABALA PORTAL 2005
http://synergeticqabala.chaosmagic.com

FUTURE SCIENCE PORTAL
http://futurescience.chaosmagic.com

CREATIVITY PORTAL
http://creativeprocess.iwarp.com

THE MODERN ALCHEMIST BOOK
http://the-modern-alchemist.iwarp.com

EMERGENT HEALING PARADIGM PORTAL
http://emergenthealing.50megs.com

SCIENCE ART USA PORTAL
http://science-art-usa.50megs.com

CHAOSOPHY JOURNAL PORTAL
http://chaosophy.50megs.com

EDGEWORKS HYPNOSIS PORTAL
http://edgeworkshypnosis.50megs.com

MYTHIC LIVING PORTAL Pantheon Book
http://mythicliving.chaosmagic.com

NEW 6/2005: BIOPHYSICS Portal
http://biophysics.50megs.com

SACRED GEOMETRY
http://sacredgeometry.50megs.com

IO UPDATES 2005 & SAMPLE ARTICLES
http://www.angelfire.com/art2/digidiva_ionamiller

THE MAGICAL & RITUAL USE OF PERFUMES book
http://magicalperfume.chaosmagic.com

ART ARTICLES ~ ARCHIVE
What Inspires Me http://ionamiller.50megs.com/about.html
Digital Cymatics: http://ionamiller.50megs.com/catalog.html
Iona paintings Animated: http://www.onenationundergods.com/iona.html
Cyberotica Art Manifesto: http://www.onenationundergods.com/statement.html
Edge Artists as Strange Attractors: http://www.subcutaneous.org/edge.html
Random Order Revisited: http://www.theesecondcouming.com/random.html
History of Digital Art 101: http://theesecondcouming.com/digital.html
Media Ecology: http://theesecondcouming.com/backgrounds.html
Lydia Lunch: Beyond the Pale: http://www.subcutaneous.org/lunch.html

http://gartelmiami.50megs.com
http://gartelmiamipbiff.50megs.com
http://gartelindia.50megs.com

WEB SPAWNER UPDATES
http://www.webspawner.com/users/ionamiller/index.html

Iona also collaborates with the following Digerati:
http://nwbotanicals.org [Partner, O.A.K.]
http://emergentmind.org [Editorial Board JNLRMI; biophysics]
http://electricterra.com [Consultant in ULF EM research]
http://cyberdoctv.com [Associate; Wellness & CAM]
http://siliconwood.com [Consultant; Real Fantasy]
http://science-art.au.com [American Consultant, Science-Artist]
http://www.subcutaneous.org [Co-artist with animator Bob Judd]
http://www.championtreeproject.org [Consultant]
http://topdownyoga.50megs.com [Consultant]
http://tigernews2005.50megs.com [Investigative journalist]
http://www.nexusmagazine.com [Writer]
http://australiapalmisland.50megs.com/ [Indigenous Peoples Advocate/Activist]


Iona is published by Phanes Press, Destiny Books (Inner Traditions International), Autonomedia, Nexus Magazine, Dream Network Journal, Journal of Nonlocality and Remote Mental Interactions (JNLRMI), Chaosophy Journal, DNA Monthly, and more.

NEW 2005: Digital diva fauxto gallery: http://www.angelfire.com/art2/digidiva_ionamiller/fauxtos/
Psychotronic Animations: http://onenationundergods.com/iona.html
Digital Diva Slideshow Gallery

buy the book
"THE MODERN ALCHEMIST:
A Guide to Personal Transformation"
IS BACK IN PRINT FROM IONA
.95 + .50 S&H for single book; Paypal at
http://www.nwbotanicals.org/books/modernalchemist/modernalchemist.htm

About the author: Trandisciplinarian Iona Miller is a consultant, writer, hypnotherapist and multimedia artist doing groundbreaking work on the relationship of chaos theory and emergent paradigm shift in experiential psychotherapy, new physics, biophysics, philosophy, cosmology, medicine, creativity, art, qabalah, magick, metaphysics, and society. See her annual CHAOSOPHY JOURNAL at homepage http://ionamiller.iwarp.comAlso visit 2009 UPDATES at http://ionamiller2009.iwarp.com and ARTLINKS at http://ionamiller.50megs.com
IONATOPIA PORTALS 2008
I now have four main Homepages with menus, because I've had to move on as each filled to capacity. The original is
IONASPHERE 2000: ionamiller.org
2000-2007 is here
IONATOPIA 2007: ionatopia.50megs.com
2008 and full menu is here
MENU: http://ionamiller2008.iwarp.com
2009 MENU
http://ionamiller2009.iwarp.com
SOCIAL NETWORKS
FACEBOOK facebook.com/people/Iona-MIller/730426595
TRIBE people.tribe.net/ionamiller
BLOG: people.tribe.net/ionamiller
MySpace: www.myspace.com/ionamiller
GAIA: psiona.gaia.com
Gaian Ambassador
www.emergentmind.org JNLRMI Associate Editor
My Portals each contain one main subject and are compilations of my writing on those topics.
NEW SITES:
THE TRANSMODERN ALCHEMIST

http://transmodernalchemy.iwarp.com
CREATIVE PROCESS
http://creativeprocess.iwarp.com
SPIRITUAL ALCHEMY
http://spiritualalchemy.iwarp.com
THE MODERN ALCHEMIST
http://the-modern-alchemist.iwarp.com
MAGICAL PERFUME BOOK
http://magicalperfume.iwarp.com
MYTHIC LIVING
http://mythicliving.iwarp.com
~SUPER SCIENCE~
Spiritual Physics
spiritualphysics.50megs.com
Virtual Physics
virtualphysics.50megs.com
My Zero Point
myzeropoint.50megs.com/
Photonic Human
photonichuman.50megs.com
EmBEDded Holograms
http://embeddedholograms.iwarp.com
Psiona Parapsychology
psiona.50megs.com
Beyond MK Ultra - MRU
beyondmkultra.50megs.com
Climate 2012
climate2012.50megs.com
Neurotheology
neurotheology.50megs.com
Paramedia Ecology
ionaparamedia.50megs.com
Biophysics
biophysics.50megs.com
Iona Brainstorm
ionabrainstorm.50megs.com
Electronic Voice Phenomena
evp2007.50megs.com
Espionage Central
espionagecentral.50megs.com
Occult Espionage
occultespionage.50megs.com
Mind Control for Dummies
mindcontrolfordummies.50megs.com
Bacon is Shakespeare
baconisshakespeare.50megs.com
Triangle Book of St. Germain
trianglebook.50megs.com


~ SOUL SUPPORT~
Conscious Alchemy
consciousalchemy.50megs.com
Creativity
creativeprocess.iwarp.com
Chaosophy Journal
chaosophy.50megs.com
The Modern Alchemist Book
http://the-modern-alchemist.iwarp.com
Temple of Living Light
templeoflivinglight.50megs.com
Emergent Healing
emergenthealing.50megs.com
Edgeworks Hypnosis
edgeworkshypnosis.50megs.com
Mythic Living
mythicliving.iwarp.com
Harmonic Continuum
harmoniccontinuum.50megs.com
Synergetic Qabala
http://synergeticqabala.iwarp.com
Magical Perfume Book
http://magicalperfume.iwarp.com
Energy Psychology
energypsychology.50megs.com
Dreamhealing Book
dreamhealing.iwarp.com
Spiritual Alchemy SuperPortal
http://spiritualalchemy.iwarp.com
We all know that art is not the truth, art is a lie that makes us realize the truth. ~Picasso


~IO ART~
IONATOPIA 2007: ionatopia.50megs.com
IONASPHERE 2000: ionamiller.org
Pop Occulture
popocculture.50megs.com
Know Brow Art
knowbrowart.50megs.com
Digital Universe
digitaluniverse.50megs.com
Kabbalah Luminata
kabbalahluminata.50megs.com
Science-Artificers Guild, Int'l
http://science-artificer.iwarp.com
Science-Art Renaissance
science-art-usa.50megs.com
Sacred Geometry
sacredgeometry.50megs.com
Iona Miller
ionamiller.50megs.com
Iona Miller Art
ionamillerupdates.50megs.com

ESPIONAGE SERIES
The Spywhisperer
http://spywhisperer.iwarp.com
Espionage Central
espionagecentral.50megs.com
Occult Espionage
occultespionage.50megs.com
Mind Control for Dummies
mindcontrolfordummies.50megs.com
Beyond MK Ultra - MRU
beyondmkultra.50megs.com
Psiona Parapsychology
psiona.50megs.com
Paramedia Ecology
ionaparamedia.50megs.com